When a company or an individual decides to create a website to market their wares, one of the single most important additions is a regularly updated Blog. Over the lifetime of your website, this web log will typically help increase natural traffic to your website. Blogs capture both the attention of search engines as well as potential clients making them a marketing necessity.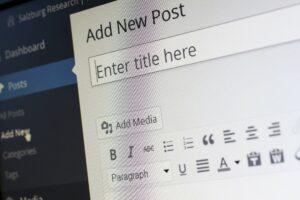 The following are some key reasons for maintaining and regularly updating your Blog:
1. Skimming – When a casual reader is glancing through your site, or skimming the content, a blog is often a good place for key words. These thoughts and ideas attract users and encourage them to dive deeper in to your site. Similarly, search engines like Google browse your articles for key words to help decide how to rank your website. Often times a blog post is one of the first places a user will encounter your website. Give them something interesting to catch their attention and they're likely to stick around like we discussed in "How Do I Get My Business Noticed."
2. Content is king – When a casual user is skimming through your site, it is the interesting content, linked to other pages in your site, that will keep them browsing for longer periods. This creates potential leads and takes these users to areas that will result in engagement and the best chance to win their business. Your blog is the perfect place on your website to have more detailed, richer information about various subjects of interest relating to your field.
3. New content – While generalized content can be useful to guiding a reader to the next page you want them to discover, it is new content that will likely keep a user coming back to find out what's new. In the world of blogging, regularly scheduled new content is always preferable over the occasional post for both potential clients and search engines.
At Kallen Media, we recommend a minimum of one new post per week, with that content being optimized for SEO and being no less than 500 words. This is because Google crawlers often do not pick up on pages or posts that have minimum content on them. Top ranking posts often will have over 1,000 words and last the reader an average of 7 minutes to read through the content.
4. Life time value – Perhaps one of the best features of a blog post is that once it is live on your site and gets indexed by the search engines, then it's there for users to find forever. In other words, this one post will be on the internet for people to find and refer back to for as long as your site is active. This makes posting quality content that much more important because you want your company linked to trustworthy articles and sources. Often times it can be better to edit and change old content rather than trying to totally delete it for search engine indexing reasons.
5. Blogging is the #1 marketing tool for SEO – Down to the most basic point for internet marketing… adding a blog and keeping it regularly updated can seem like a chore and can be a challenge. However, the reward is that your addition of regular content to your website (easily done through regular blog posts) tells the search engines that your site is active and provides valuable information for the potential client. If you want users to find you, start blogging!
Kallen Media can help you create and maintain a blog on your website. Call us today at (773)-524-1483 or click here to find out just how easy and economical it is to get started.