Arizona Social Media Marketing
Increase brand awareness
at no extra cost
Our social media marketing services in Arizona help you manage your social media through research, audit, and best practices, so you can focus on other aspects of your business and watch it flourish.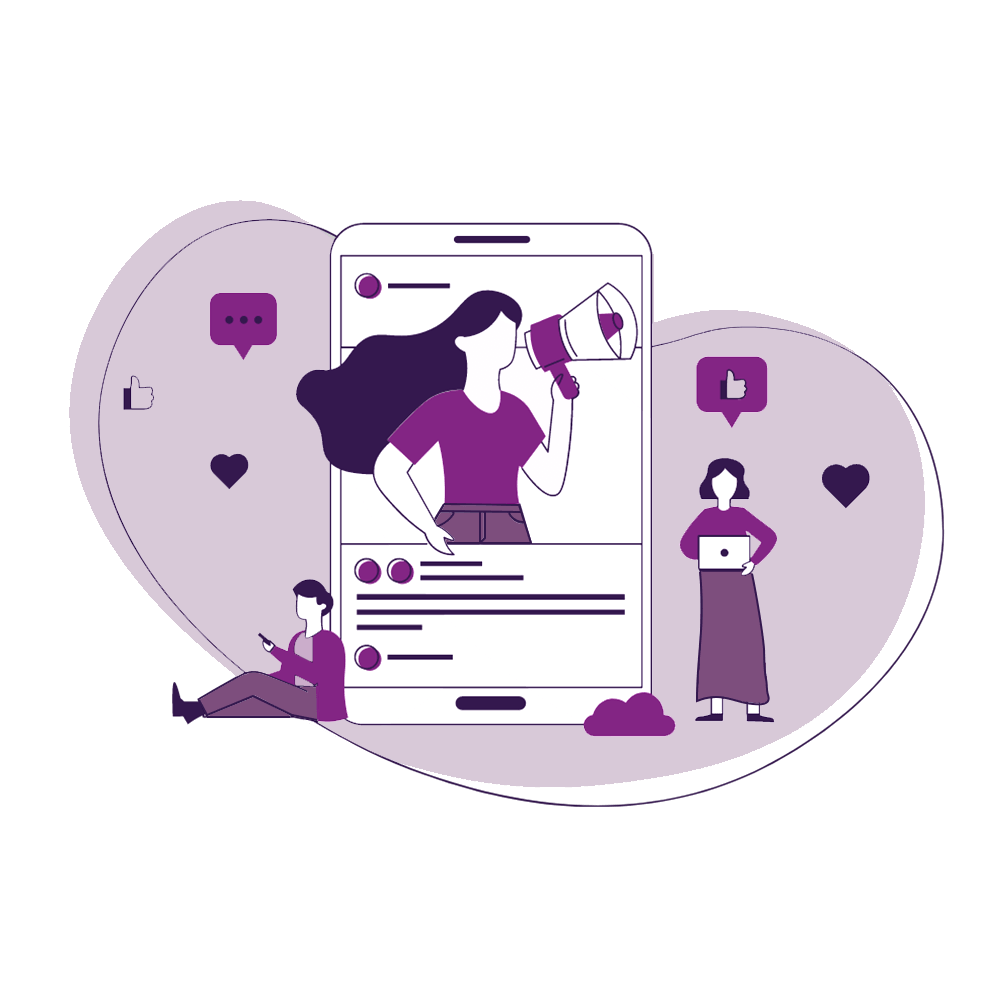 Access to free subscription and software
When you work with our agency, you receive access to our software and subscriptions.

Flexible Schedule
We are flexible with your schedule. We will post the content on your social media in accordance with your business activities.

Keywords Optimization
We use the marketing tool to analyze target keywords for social media posts. Depends on your content, we'll put relevant keywords in the post so you can make the most out of it. 

Competitor Audit & Analysis
We do competitor analysis to track the trends and discover what resonates with your customers. 
Learn More
First, we sit down and brainstorm ideas for your campaign. We want to create the best campaigns and content, so we need input from our clients to determine the best strategy to implement.
Learn More
Once we have information on the campaign, it is time for us to get to work. We will create social media posts for the contract period that we have in place. This is a set number of posts per week plus interactions.
Learn More
Once our posts are set up for the month, it is time to schedule them out. Using Hootsuite, we are able to schedule out months in advance. This takes the worry and hassles out of having to create posts daily.
Learn More
How that your system is set up with Hootsuite through Kallen Media LLC, you are all set! Sit back, relax, and watch as you post great contact and interact with your loyal clients, worry-free.
Select The Best Package For You
1 Weekly Social Media Posts

1 Monthly Blog

Access To Hootsuite

Responsive To Clients
3 Weekly Social Media Posts

3 Monthly Blog Posts

1 Hour Consulting Session

Access To Hootsuite

Responsive To Clients
Professional
Highly Active Website
5 Weekly Social Media Posts

4 Monthly Blog Posts

1 Hour Consulting Session

Access To Hootsuite

Responsive To Clients

Fully optimized keywords

As a business owner ourselves, we understand there are several different aspects of your business you should focus on, which may leave you with no time to continually update your social media handles even though it is crucial for your business's online success. This is where our social media marketing service comes in. Our team of social media experts will manage your social media networks.
Kallen Media, as a professional SMM company, integrates with Hootsuite, which helps us view all your social media information on a customized dashboard. We are incredibly flexible when it comes to dealing with our customers, and allow as much or as little control they would like. When you work with our agency, you receive access to our software and subscriptions.
By associating with us, you can effectively connect with your potential audience to increase brand awareness and convert your leads into sales. Today, the modern consumer spends most of his/her time on social media, which makes having a social media presence even more important. We work wonders when it comes to improving your visibility on all major social media platforms helping you reach a much broader audience base.
What Clients Say About Us

"Nathan guided us through a social media project we had put off for a year, and he helped us accomplish it in a matter of hours. I wish I had found him earlier. He was responsive, kind, and friendly, understood my request, and worked with my colleague to achieve the results we wanted. I recommend him heartily!".
Hadass Sheffer, President
The Graduate! Network

"Nathan has been doing blog posts and social media since 2016 for the International Technology Rental Association. His work has directly led to new members joining the association and increasing our visibility around the world".
Chairman of the Board
 International Technology Rental Association 
"Nathan was a great pleasure to work with! He was an asset for me as I got my social media accounts set up and my new website kicked off! He is easy to work with, quick to reply and has great ideas! 100% would recommend!".
Amy Rogers Trusler, Founder
Nifty Apple
"Kallen Media has done an incredible job for Aria AV for the last 6 months. Our digital footprint and leads increased significantly through Kallen's social media postings and blogs. We highly recommend Kallen. Niraj Jain, CEO of Aria AV".
Niraj Jain, CEO
Aria AV