Hootsuite
Social media is an essential part of digital marketing. Each different network has a broad reach to a slightly different audience. Trying to handle the challenges of each social media on its own can be overwhelming when thrown on top of your other business responsibilities. That's where social media management services come into place.
Hootsuite is a software program designed to link social media platforms together in an easy to use scheduling dashboard. Within the dashboard, you can access Facebook, Twitter, Instagram, and more all on one page. If that wasn't enough, they allow you to schedule posts so you can plan your media strategy out for the week and do not need to scramble each day for content.
I am going to show you some of the great tools that Hootsuite offers, along with how Kallen Media can utilize this software to help you grow your business if you are still unsure after the end of the article, no worries! Try out Hootsuite for yourself with a free trial, which will allow you free use for up to a month before charging you.
Packages
Hootsuite wants to work with small businesses just like you. Pricing is affordable, and there are free trial options so that you can make sure Hootsuite is the right fit for your business. Otherwise, I would recommend going with the Professional level if you are a small business. This package allows scheduling and access to up to 10 social media profiles ( you probably won't even use 5).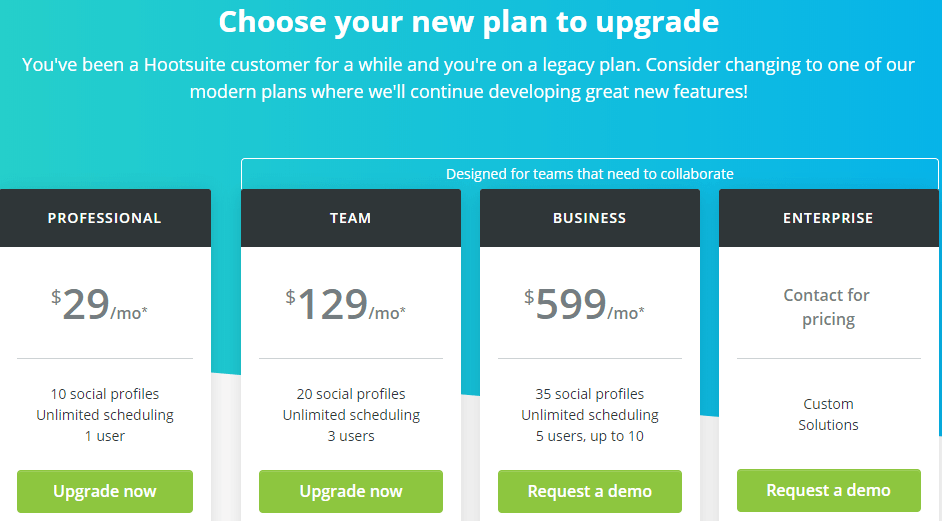 I would recommend the top tier packages if you are managing multiple locations or websites. This allows you to easily add numerous social media profiles. You would only need more users if you wanted various people to be working on campaigns at the same time.
Don't let pricing scare you off because the free options within Hootsuite are more than enough to get you started! Feel free to take a look at our Testimonial page, where you can see how we have utilized Hootsuite with our clients' successful campaigns.
How to add networks
Once you have created your account and logged on, you are ready to start filling out your profile! The profile is where you will begin to see all of your social media accounts merge into one more extensive system. To add a network, you will click on "Add Social Network."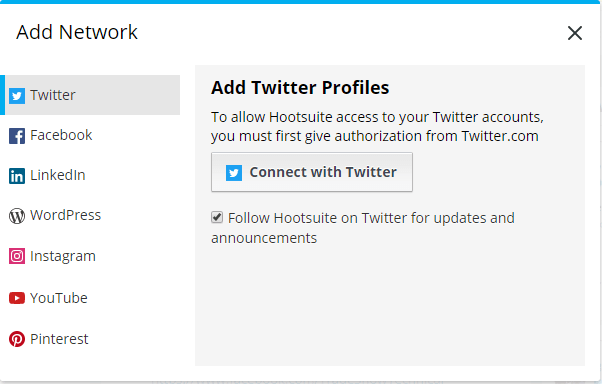 You will then be on a tab that has a list of the social media networks that Hootsuite supports. Once you decide which account you want to link, you will click on the connect button. Hootsuite will prompt you to log in to your personal or business account.
You will log in to the associated account and then select the page you wish to manage on Hootsuite. You will need to be logged into the account or be an admin to the page you are posting for this to work as well. Remember how we stressed how important it is to regularly post in "The Value Of Regular Blog Posting"? The same principles apply to social media! The only way to expand your reach and engage broader audiences is by having constant content.
How to schedule social media posts
Now you are all connected and ready to get the content out there. Once you have linked all the social media accounts, you will want to go to the publisher tab. The publisher tab will open a calendar view, which will be blank until you schedule posts.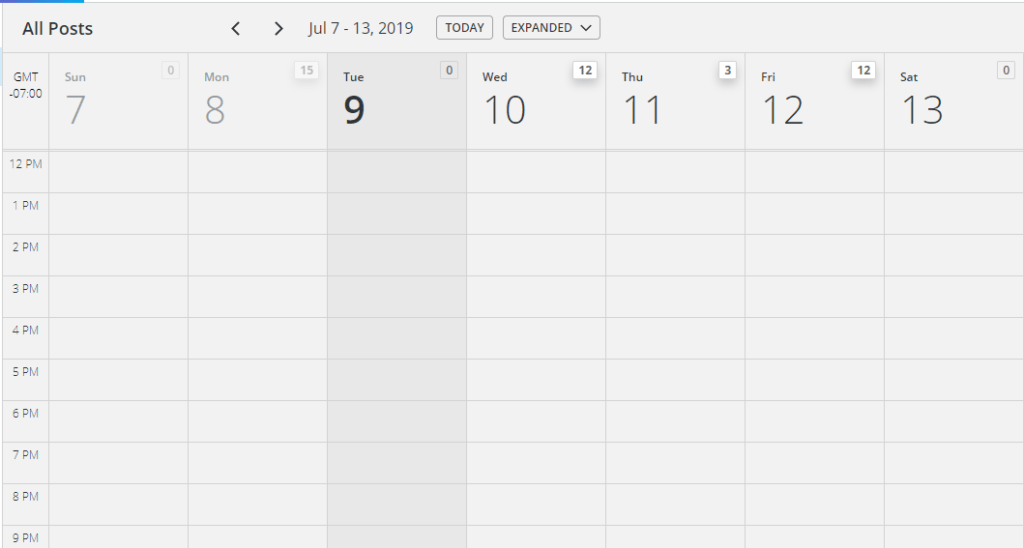 Select the green post button on the top right-hand side, which will open up the post creator. Here you can select the social media you want to post to along with any text or image you wish to attach. On the right side will be a preview of how your post will look on different social media platforms. This allows you to fix any possible loading or view issues that may arise, depending on the media you are posting.
Now you have everything set up and ready to start creating digital marketing campaigns of your own using Hootsuite! By following these simple steps, you can start planning content and scheduling it all in one place. If you are interested in learning why social media is so important to check out our blog, "Utilizing Social Media Effectively".
Get Started Today
The basics are done, and now you are ready to start creating a campaign of your own! We would love to help you personalize your campaign, and show you how to expand your reach. Get in contact with us today for a free consultation.