Kallen Media's First WordCamp
At the start of February, I was lucky enough to attend the WordCamp Phoenix 2022 event.  WordCamps are WordPress events that bring together the community to share advice and tips.  And these events have been going on for over ten years and take place around the world. So be sure to lookup WordCamp events near you to see if there is a chance to join in on these great conferences.  The event was in the heart of bustling downtown Phoenix in "Events on Jackson."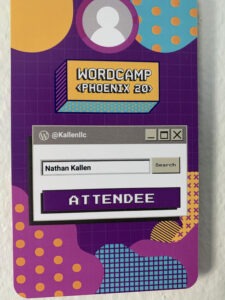 WordCamp Phoenix 2020 was my first WordCamp event, along with Kallen Media's first as well.  And I had not done too much research on these events; besides that, they involved the WordPress community and critical members.  Because of the proximity and low price point of $50 for a weekend pass, I decided to register myself as an attendee if you are interested in rewatching any on the previous WordCamps, found on the WordPress TV website.
The event weekend started with a smooth drive to downtown Phoenix from my office in Tempe, right near Arizona State University.  Parking was only $5 each day for special event parking, which is very reasonable for downtown Phoenix. Once I walked in, wonderful volunteers greeted me, and I was quickly able to find my badge.  The lobby had great snacks and hot coffee; So for the day, They were great!
Volunteers orchestrated the entire event. Which made me excited to see the presentations to come because everyone was passionate about WordPress.  Opening remarks gave me an excellent overview of what to expect from this conference. Now it was time to start learning!
WordCamp Sessions – Day 1 morning
The first presentation that I sat in on was from Kori Ashton, the CEO of WebTegrity.  Her presentation focused on improving digital marketing business models, specifically for small businesses and freelancers.  The talk hit a direct cord with me going over both questions and similar experiences of my own. I was able to gain insights on pricing models, workflow structures, and customer interactions, all within her 50-minute presentation. My mind was opened to more possibilities looking ahead with Kallen Media watching a successful digital marketer share their tips and secrets. This session was exactly the content I was looking to learn!
The next session that I decided to go to was "The Art of Networking" with Francesca Marano.  Francesca is the WordPress community manager at SiteGround. She traveled from Germany and has made a career out of networking within the WordPress community.  Hearing Francesca speak about her experiences networking and getting out of her comfort zone encouraged me to engage as many community members as possible throughout the rest of the conference.
WordCamp Sessions – Day 1 Afternoon
My final presentation of the morning was about building a content marketing machine with Colin Shipp. Because of content marketing's significant part in digital marketing as a whole, I was particularly interested in this presentation.  Colin sheds light on creating content meant for consumers, not search engines. He also broke down the best types of articles to write and effective ways to capture your readers.  A fantastic presentation that gave me valuable insights and reassurance that my content marketing strategies were on the right track.
Lunch both days was a delicious offering of gourmet tacos.  Both days I was pleased with the food.  So glad I went back for seconds both days! Lunchtime was also the prime time where I was able to network and talk to other fellow WordPress fanatics.  I met a variety of travel bloggers and business owners that gave me different perspectives on how WordPress works in a business.
WordCamp Sessions – Day 1 Afternoon
The second half of day 1 of Phoenix WordCamp 2020 started with Troy Dean's presentation, "Think Again."  This presentation highlighted getting started in WordPress and utilizing the community to help your business grow.  Become a specialist and either partner with professionals or outsource work when possible. He finished his presentation focusing on five core pieces to being successful: language, thoughts, beliefs, actions, and results.
Complimenting "Think Again" was the next presentation by Chris Klosowski about transitioning from maker to manager.  Within businesses, it is critical to have both happy employees and a manager who is competent. Chris elaborated that only 1 in 10 people have natural managerial talent, and the other 9 need some training.  This fact is essential because it shows how critical exercise is in creating an efficient and happy workforce.
Session 6 of the day was about how to create online courses by Zac Gordon.  Within the short span of 50 minutes, Zac was able to cover over 100 different tips for making useful courses.  Some of the most exciting pieces of information included his setup for recording videos. There is a lot more time and effort going into these kinds of content than I thought!  This content ranges from mic setups to adding proper lighting to your room. I would highly recommend rewatching this video for anyone interested in starting their digital courses.
The final presentation of day 1 was by Julie Archer about how to organically grow your brand utilizing social media.  This topic was another point of interest since Kallen Media has been managing social media accounts for its clients since its creation.  Some great tidbits that I got from this presentation were to connect with your audience authentically. Make sure your content is made for people and is genuinely entertaining.  Failing to do so is the number 1 way brands fall off, and consumers become uninterested.
Day 1 Conclusion
After my first day of WordCamp Phoenix 2020 was over, and I could not have been happier with my day.  I got to network with fellow digital marketers and WordPress fans within my community. The facility and food were both fantastic, with extraordinarily engaging and exciting panels to go throughout the day.
Some of the other fun aspects of the event were all the sponsors and their booths.  Below is a picture of all the different swag sponsors that were handing out.  I personally really enjoyed all the stickers, and have added some to my laptop.  If you are a fan of free stuff, WordCamp is the place for you.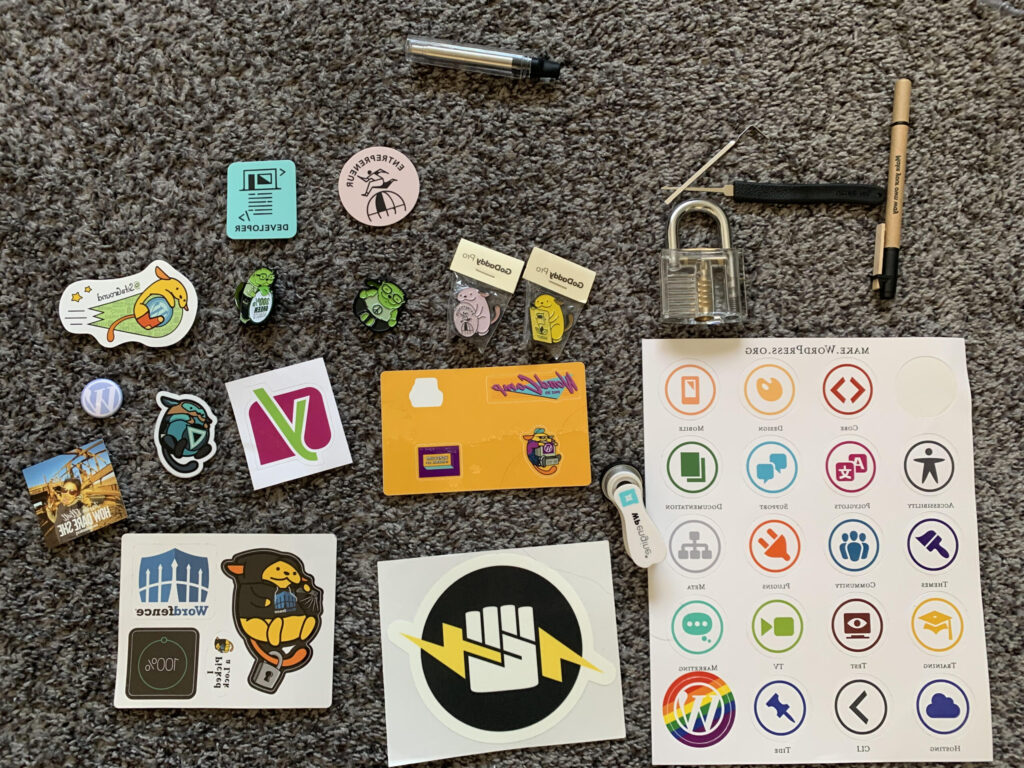 WordCamp Sessions – Day 2 Morning
Today I wanted to explore more of the presenters than I had the previous day. I thought that there were some time slots with multiple exciting topics but i still enjoyed all my presentations.  My morning began with Marco Berrocal digging into WordPress hooks and how they are an essential part of WordPress web development. Next, I went to Kimberly Lipari, who spoke about Valet, a managed WordPress service.  Her presentation was fascinating because I resonated with her story. She started as a marketer and slowly dove deeper into development, which is how I got my start as well.
The morning ended with a group presentation on how to get involved with the WordPress community.  The presenters talked about how WordPress was built open-source from a group. Because of that community, it made connecting with like-minded individuals much more straightforward.  There were events around the US, particularly WordSesh and MeetUp events. These were both free gatherings where people could go and talk with other members of the WordPress Community.  The diversity excited me to try and research some of the groups in my area after the event concluded.
WordCamp Sessions – Day 2 Afternoon
After another delicious lunch, it was time for the keynote speaker of the weekend, Brandy Lawson.  Brandy spoke about coming up with the Phoenix WordPress community. Through the support of partners, they were able to create their businesses by connecting with the right people.  Connections and creating meetup groups allowed Brandy to create a successful digital marketing business. By doing this, it allowed for more time with family and a balanced lifestyle.  
Now it was time to get into my last three sessions of the day.  Allie Nimmons was first up to present about how to supercharge maintenance plans for clients.  For me and my business, a maintenance plan is a difference between a functional client website and a website with problems.  These plans allow for a constant relationship between the client and webmaster to ensure the client's site is always working at its best capacity.  Some of the best key points that Allie mentioned were utilizing the GoDaddy Pro dashboard, setting up analytics, and examples of statistics to show clients.  I started using GoDaddy Pro after this presentation, and would highly recommend it since it is free!
Session 6 was Pam Aungst presenting the SEO Basics.  My primary reason for going to this breakout was checking Kallen Media's SEO practices against seasoned veterans. First, we talked about speed software that I utilized, including GTMetrix, Screaming Frog, SEMRush, and Moz.  Additionally, Pam broke down the different Google tools such as page speed insights, mobile-friendly test, and the structured data testing tool.  Some of the best information I gained was online news and blogs revolving around search engine optimization and best practices.
Day 2 Conclusion
The final presentation of WordCamp Phoenix 2020 was about data privacy by Ronnie Burt.  Right off the bat, Ronnie debunked the myth that WordPress plugins can provide privacy, and they can't.  Personal information consists of a person's first and last name, plus one additional personal detail.  To create the most effective privacy system, he recommended that people research their state and the field they are practicing in.  This way, it limits the possibility of any legal action or potential breaches.
My Experience
Overall my experience with the WordCamp Phoenix 2020 conference was spectacular.  I would highly recommend WordCamp events to anyone interested in making a career in the digital world.  The speakers had a wide diversity of topics making their sessions for people of every skill level. There are WordCamps around the world, so I would highly encourage my readers to take a look online and find a camp near you to check out!  So if you are interested in learning more about my experience at WordCamp Phoenix 2020, please give me a call at (773) 524-1483 or fill out a contact form.