In essence, content marketing is about creating original, informative, and helpful content to introduce new leads to your brand. But you also are convincing people that you're trustworthy. In contrast, you pay someone to do the advertising, and the ad is posted on a platform you don't have ownership of.
Digtial marketing and advertising are two of the biggest marketing components, but will the former overtake the latter? Let's find out.
Content marketing helps rank your website up.
There's no better way to naturally increase your website's traffic than doing search engine optimization (SEO). SEO is nothing but a set of methods designed to ensure your website top the SERPs when someone searches for relevant words/phrases.
SEO intends to improve your appeal to Google, ensuring that your website ranks on the first page of Google when a potential customer searches for offerings related to your products/services. With a higher rank, your chances of getting more sales increase by a good margin. In fact, it's reported that over 25% of people click the first Google search result.
This is where content marketing has the upper hand. Using keywords naturally within your content, search engines will see your website as a good search result for a word/phrase and rank you higher.
In addition, great content encourages links from other websites. Plus, Google's search engine algorithm takes into account links—and the websites with the most high-quality links have more chances to occupy the topmost positions for relevant searches.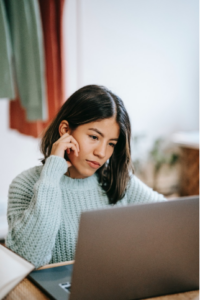 Content marketing improves your brand's perception.
Almost every company users advertising. Why? Because there's nothing wrong with that. In fact, online advertising can be effective and can give your offline store sales a significant boost.
However, content marketing does something else—it improves your brand's perception. For example, if your company comes up with content that teaches something new, offers advice, and helps visitors, people thank you, where advertising has already lost that benefit of the doubt.
If your content offers real value, your brand's perception will shoot up. Thanks to content marketing, your brand will have a solid identity – something that'll help you win new business in the long run.
Verdict
There's no doubt that guerrilla marketing is way more appealing than advertising. Consumers develop a good perception of brands that use content marketing effectively. But that doesn't mean you should cut back on advertising entirely.
You may employ content marketing and advertising side by side to better your chances of gaining customers. For example, use content marketing as an initial intro and use advertising to lure the customer into purchasing something.
Yes, content marketing may overtake advertising, but that doesn't mean you don't give advertising its due share – take maximum advantage of it while it's here!
As a leading content marketing agency in Phoenix, we attract top-notch visitors, build awareness, and increase search exposure through our blog writing services in Phoenix.
Give us a call now for more information!