Gone are the days when people would linger around shops and stores. People no longer spend hours looking for their favorite turquoise hoodie or their plum lip color in physical stores. That's because businesses are growing, and so are the customers' expectations – so are the selling strategies, and so are your competitors. This expansion has lead both large and small companies to shift to an online business model.  Still, there can be nothing more thrilling and industrious to launch an eCommerce websites from scratch and watch your sales skyrocket.
Now how do you get started?  Umm, it's more or less like a recipe you've been reading twice or thrice or more than that. And so, it's a different feeling when you start doing stuff – mixing your research with your existing business plans and then grinding it with the market insights for your desired niches. So, here is an ultimate guide for beginners who plan to start an eCommerce store, the hassle-free way, in 2020.
Step 1 – Research the market
Like any other business, Ecommerce also requires you to dedicate time, energy, and efforts. Before you sign up for stores or something like that, make sure to study the market trends, barriers to entry and exit, and participate in online discussions about this business. Otherwise, once you start without the necessary knowledge, it may get exceedingly tedious later on to understand the technical vocabulary, ratios, and insights of your business.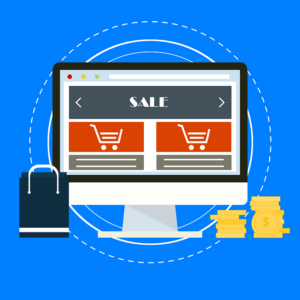 During your research phase, you need to decide which niche you'd target – which depends upon your interest. If you know a great deal about the newest cellphone models, and you choose to open an eCommerce store that exclusively sells handmade scarves, art, crafts, and paintings – you'd soon regret your decision to launch this business.  All your ideas, website, and offerings need to flow together to give the customer a consistent message.
Bonus Tip: Your research should include cross-checking the market trends as well as your interests! Knowing this information will help you direct your efforts while choosing product lines and target audience.  The longer you spend on research, the less you will need to do in the later phases.
Step 2 – Establish your brand and store
An eCommerce store is essentially a conventional store where you hand in physical goods or services to your clients. So, deal with it the same way. Establish your brand – logo, store name, products, vendors, delivery channels, payment methods, business licenses, work permits, etc. Also, consider any other business obligations as required by your local government or compliance authorities.  Failing to do so could result in unpaid taxes or fines that nobody wants to deal with.
Then, choose a platform for starting your eCommerce websites. Evaluate carefully before you decide on one. Selecting a cart option may seem more comfortable, but it's something entirely different from just looking at them.  Our recommendation is to use the WordPress CMS platform with an eCommerce theme or plugin. Popular options include WooCommerce and Shopify. Remember that your eCommerce has a high loading speed, the available templates relate to your business model, there are different payment channels available, and that it has any other necessary features and storage.  Striking a balance between a lean, fast website, and one that is robust with information is critical.
Bonus Tip: It's better to hire an eCommerce web designing expert from Arizona if you're new to all of this. You may have to bear a financial cost for these services, but that's way convenient than doing it on your own for the first time and destroying the first impression of your store.  Plus, Kallen Media has been working with these eCommerce websites for years!
Step 3: Choose relevant marketing channels
Time to market your store! Deciding the right platform advertise your products and your store is equally important as the design. For example, if you are offering some WordPress themes, digital downloads, research reports, or maybe some furniture for offices and business premises – you better work with LinkedIn. Similarly, if you have a girly brand and pink products, makeup items, or some undergarments – then prefer using Facebook Business. In short, your platforms will differ based on your target audience, and it is so vital for your business to engage with the community via the right channel and media.
Bonus Tip: There are some sponsored marketing tools available on different platforms. For example, LinkedIn has a premium account. Similarly, Facebook posts can also be boosted against a nominal cost. Go for that. Or, if you want to avoid taking long routes for these necessary tasks, outsource your worries to a digital marketing agency in Arizona who can manage everything else for you. A number of these digital marketing agencies offer great SEO and blog posting services.
Are you in Phoenix?
Get in touch with the best digital marketing agency that will take care of your eCommerce websites as a professional. These companies in Phoenix offer solutions to all of your problems – from eCommerce web designing to higher ranking campaigns in SEO. They have inhouse teams who provide creative advice, expert consultancy, and excellent customer care with mind-blowing eCommerce store management services that you'd love for ages!  For more information, you can contact [email protected] or call (773)524-1483.