Within the digital world, there are tons of different outlets to spend your marketing budget.  Pay per click campaigns through search engines should be at the top of your list of investments.  These advertisements allow your company to stand out above the organic competition. This strategy is the opportunity to be seen and beat the larger organic pages, which you may not be ahead of otherwise.  That is why I have created a beginner's guide to google ads.
This article is going to cover the pay per click advertising campaigns available for small businesses through search engines.  All these programs are going to be self serve advertising programs as well. The different company's plans share many similarities.  In many cases, building a campaign on Google Ads can be easily transferred to both Bing and Yahoo. This strategy helps save time, creating multiple of the same campaigns on different platforms.  Because of this, I am going to focus on building your first pay per click campaign using Google Ads.
Google Ads
The behemoth of digital advertising platforms is Google Ads.  Google Ads allows for a variety of ways of business to get in contact with their desired markets.  Their platform has two different primary forms. The first is smart campaigns, and the second is going to be a manual campaign.  A smart campaign is generalized with topics and allows for minimum editing.  
This campaign is for a beginner or someone who has not utilized Google Ads before.  The recommended campaign is going to be manual. This setting allows for complete customization and targeting of audiences.  If you are interested in learning more, Google offers its Google Ad Certification for free online.  Similarly, if you are a nonprofit, you should read our article "How To Setup Google Ad Grants in 7 Steps" to find out how you could be eligible for a $10,000 ad spend the grant.
Introduction to Campaigns
For the rest of this section, I will focus on the manual campaigns.  The next step is going to be what kind of goals you want to set for your campaign.  There are a variety of options to choose from for your campaign. Most of the time, I recommend tracking sales as this is typically the goal of most campaigns.  Similarly, there are options to monitor traffic and specific niches depending on your campaign goal.  
Congratulations!  You have completed the first step in the beginner's guide to google ads.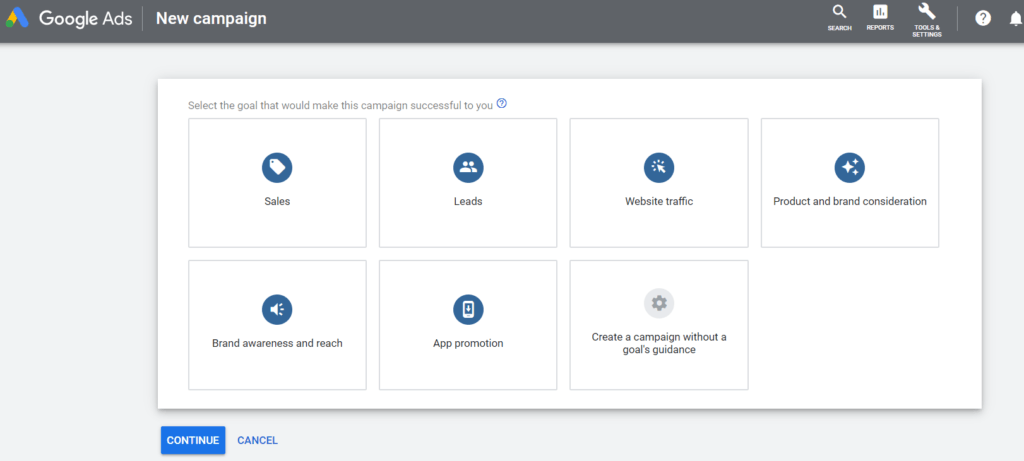 The next step is selecting the campaign type.  For Nonprofits using the Google Ad Grant, you will only be able to run a search campaign.  Otherwise, there is also the option of display, video, shopping, and smart campaigns. Display ads integrate themselves across the web, similar to Smart campaigns.  These are ads that "follow" users after they have expressed interest in your product. Shopping campaigns are featured product pages. Finally, video ads run across Youtube, the world's largest online video platform.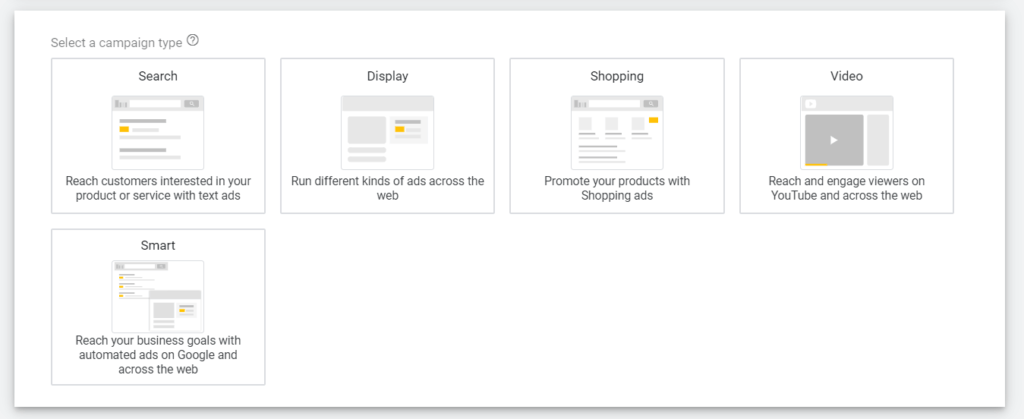 The next step is determining what action you wish to track.  This section should consider what you will consider a conversion. Website visits can mean visiting a specific page.  Similarly, phone calls are referencing calls directed from the advertisement. Store visits calculate themselves using directions to your business.  Lastly, there are app downloads if you are looking to promote a mobile application.

General Settings
Once this step is complete, it is onto the general settings page.  This section is where you can name your campaign. I recommend choosing something that relates to the ads.  The more specific, the better.
Here you can verify what networks you want your campaign to be shown on, including the search and display networks.  Next, you can choose the geographic region your ads are displayed. The more specific you can be, the better.  Make sure you are targeting only the areas relevant to your product or service. There is also the option to choose the language and specific demographic to focus on if you have that information.
The next step is setting up a daily budget.  The budget is the maximum amount you are comfortable with Google spending in a day.  To find your monthly budget cost multiply the daily amount by 30. This budget will ensure you do not go over your advertising budget on accident.  Forbidding strategy, I utilize the maximum conversion setting. This tactic lets Google do the advanced bidding for you for keywords.
At the bottom of the general settings, you will find the ad extension section.  Here is where you will be able to place Sitelink, Callout, and call extensions. Sitelink extensions take people to specific pages of your website.  A callout is similar where you are featuring a product, service, or feature you offer, without the link aspect. Finally, a call extension allows you to add a phone number to your ads.
Set Up Ad Groups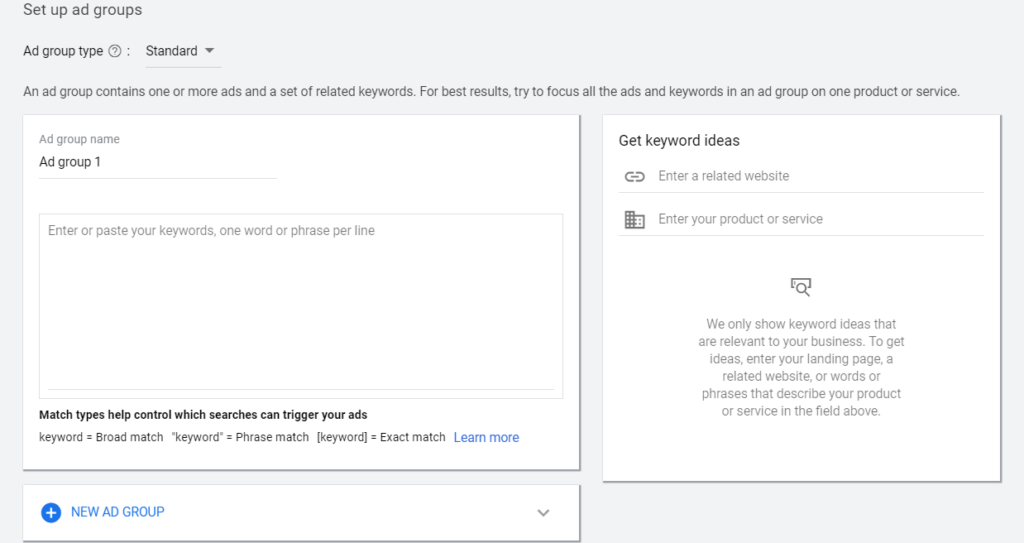 Setting up the ad groups is how you will determine what searches your company appears.  First, you will want to name your ad group. After that, I recommend entering your website in the related website field.  This research will have Google give you a list of suggested keywords to rank for in your niche. Keyword research and planning is one of the most critical aspects of creating your campaign.  
I would highly recommend contacting us for a free consultation on building your first campaign.  Utilizing long-tail keywords is the best way to make the most out of a smaller advertising budget.  This strategy may mean less overall traffic, but more of the traffic has a higher chance of converting. The number of keywords per ad group can help immensely.  In some cases, you may only want a few specific words, while in others, you may have over 100!
Create Ads
Now it is time to create what your potential clients are going to see!  This process starts by choosing the landing page. You will want people to go to after clicking the ad.  Having a call to action on the page is essential for gaining a high conversion rate. Next, you will want to create headlines that grab the reader's attention.  Try to imagine what kind of language and wording would excite yourself to click.  Heighten yourself to an expert Google advertiser since you have nearly completed the beginner's guide to google ads.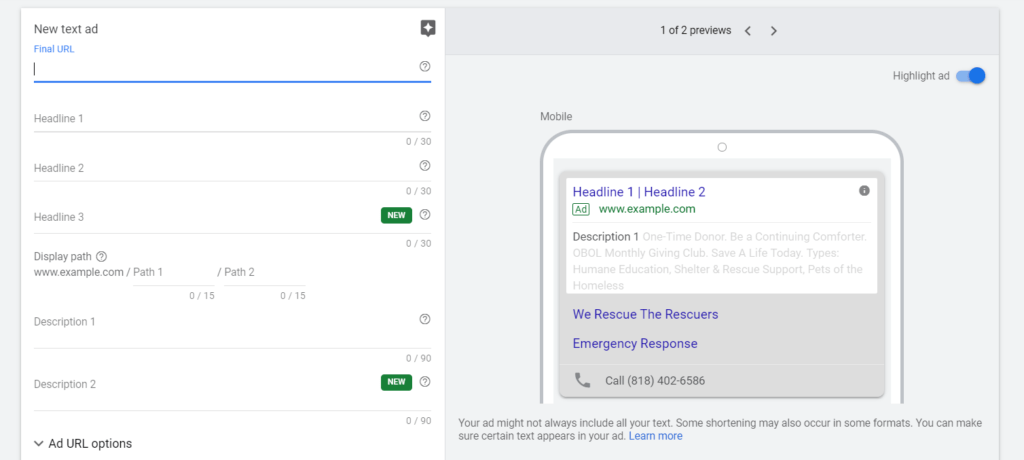 Once the headlines are active, it is time to write descriptions.  These will describe the purpose of the ad, and what users should expect.  Headlines are a great place to write your mission or the goal for your ad. The ads will then be combined with the extensions to create what your searchers will see.
Confirmation of Ads
Finally, it is time to finish and confirm your campaign.  Look over your campaign to make sure all the information looks correct and good to go.  Once finalized, your ads will be live and ready for potential clients to find.
Conversion and Traffic Tracking
Your ads should now be up and running.  While your setup is complete, the work is far from over. Currently, your campaigns must be watched and tracked.  Tracking is the only way your business will be able to tell if it is worth investing in Google Ads.  Below you will find the Google Ads dashboard.

The clicks and impression sections can both be changed to view a variety of statistics.  As your campaigns run, more information will be gathered and presented in the dashboard. Running a successful campaign means there need to be changes and close attention paid.  This strategy is why we offer Google Ads management services to provide both detailed reports and plans on the results of the campaign.
Competitor Search Engines
After this, you should have a pretty good idea how to get started creating a pay per click campaign on Google.  I would recommend you use Google Ads to create your initial campaigns. The reason is that the top competitors allow for these campaigns to import directly.  Both Bing and Yahoo allow this, which are the two most significant search engines aside from Google. The dashboards are slightly different, but the overall structuring is the same.  Feel free to investigate the other channels to see if you can find success for your business. From Kallen Media's experience, we have found much less traffic and cost, but also more reduced overall conversion quality.
How To Get Started With Pay Per Click
If you are a business struggling to get found online, these pay per click services is perfect for you.  By investing money, you can target the specific niche that buys your product and services. There are hours of research done to ensure you are maximizing your campaign.  No matter what, it is crucial to stay informed on how the digital landscape is shaping the future of advertising.  I hope you enjoyed my beginner's guide to Google Ads if you or your business is interested in starting a pay per click campaign on a search engine or social media outlet, email [email protected] or call 773-524-1483.